went to a VW meet yesterday, at deepwater reserve, milperra. was a fairly great day, meeting some people and cars that i've never seen before (corrado being the stand-out... i've only ever seen pics of them and not in real life, so i can say now that pics don't do the car justice. looks MUCH better in the flesh). i got there at 9-ish, and was like, the 10th car there. i was also pretty much the first watercooled car to get there too, so i stood out real bad, especially with my shocker of a stocker. but people there didn't judge you on the car you have, so it was all good.
about half an hour later, 4 other watercooled cars from the kingsgrove shell meet came and made me less lonely :P there was a manual 1.8T passat (looks standard), E-designated mk1 GTI (late model, rare to find), mk2 GTI, and a mk3 VR6. we ended up sticking together pretty much the whole day (until 2-ish) and met some other watercoolers that ended up parking in the car park. we saw a few new beetles, two mk3's that were owned probably by the organisers (a VR6 and a GL/CL that had foggies), another GL early model mk3 with rims out in the parking lot (didn't know who the owner was), an audi TT, costa's orange mk1 with BBS RA's, matt's seat 16V toledo and of course, carpoid's (forgot his name haha) corrado supercharged G60.
here are a few pics: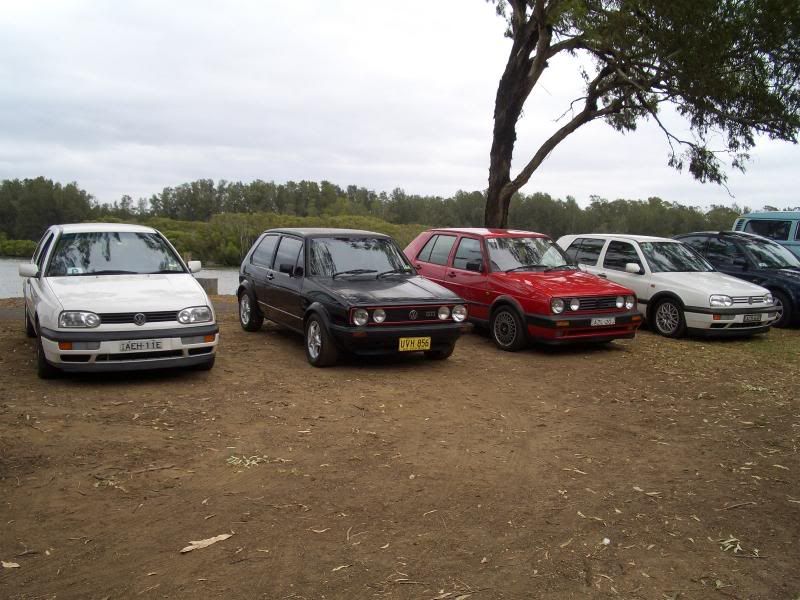 some more pics on my
photobucket
.