so, after looking around and searching up reviews and stuff, and considering prices and my budget,
i decided to get koni struts and springs
. first of all, i managed to find out about
GTsuspension
down in melbourne. they were doing some pretty good deals on koni products, including free delivery, so i jumped at the opportunity.
at first, i wanted to get the Koni 1130 kit, which was a strut + matched springs combo, but they've all ran out. so then, my option was to either get the
koni "special" or "sport" struts
, with progressive springs that's rated at
45mm lowering
. the specials were slightly cheaper than the sports, so i opted for the specials. i found out later that the
specials were actually the reds
, whereas the
sports were the yellows
. prior to this, i've only ever known the different koni struts by their colours. so when i received the package, i was kind of surprised to find reds in my hands. however, it's no big deal, cos before parting my money, i did find out that the reds (specials) were a "closer to factory" spec strut, so when compared to the yellows, they are less harsh. that also meant that their damping and rebound properties weren't as fine tuned to "rough" driving as the yellows were, and their adjustment capabilities are limited to only when they're out of the car. knowing this, i did not mind buying the reds, though knowing that there's a better spec option for $200 more, i would have opted for the yellows.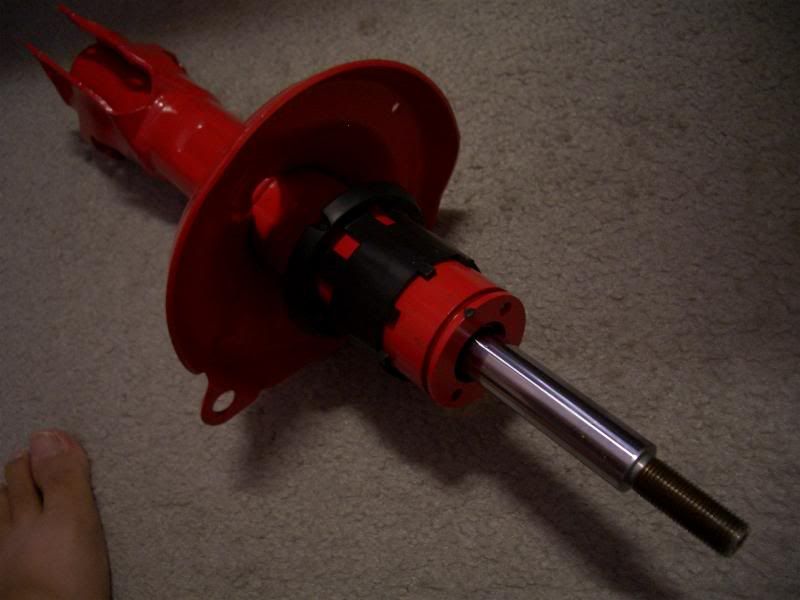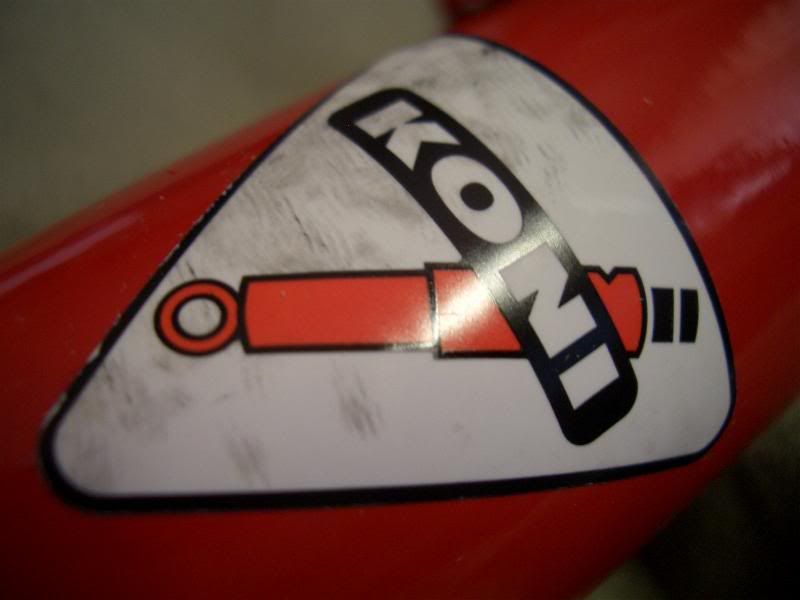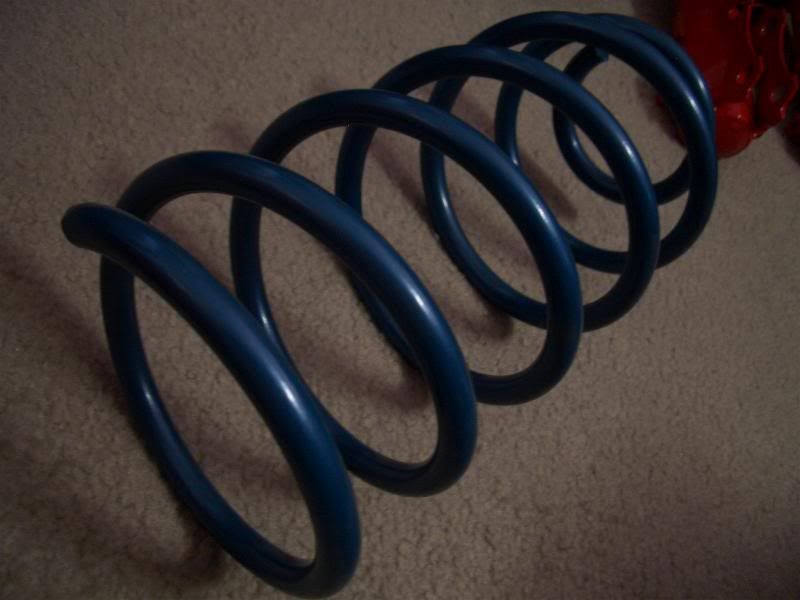 anyway, this turned out to be nothing big, cos
im loving the reds and the springs
at the moment. i've dialed the rears to be a bit on the hard side, whereas the fronts are "neutral". the
car responds extremely well
(compared to what i had to deal with when the stock struts and springs were still in, after 123,000km) and corners hard.
body roll has been reduced
a lot from the lowness, and the car has a better stance now. i would probably prefer it if i had the fronts dialed to the same settings as the rears, but i've already done the alignment so i dont want to mess it up. maybe in half a year or so i'll take it out again and get it a bit harder, but for now, i'll enjoy what i have.
anyway, i ended up undertaking the
first "big" job
in modifying my car. i changed both the rears and fronts myself with some help from friends and dad. since i saw pedro do his first, i had a fairly good idea on how to do it, and didn't run into problems with the rears. they were a breeze. the fronts however, was a totally different matter. while trying to take a nut out to take apart the factory strut and mounts, i managed to break the top bit of the strut piston, totally screwing up my chance of taking the nut off in the first place. after many WD40 sprays, temporarily fixing the top hex bit with tape, and even angle grinding off the top part, i had no way of taking it out. it's an example of over-torquing a screw - it's been tightened with so much force that it has damaged the thread. i ended up going to tooley for new mounts and ended up using an old nut to hold the mount in.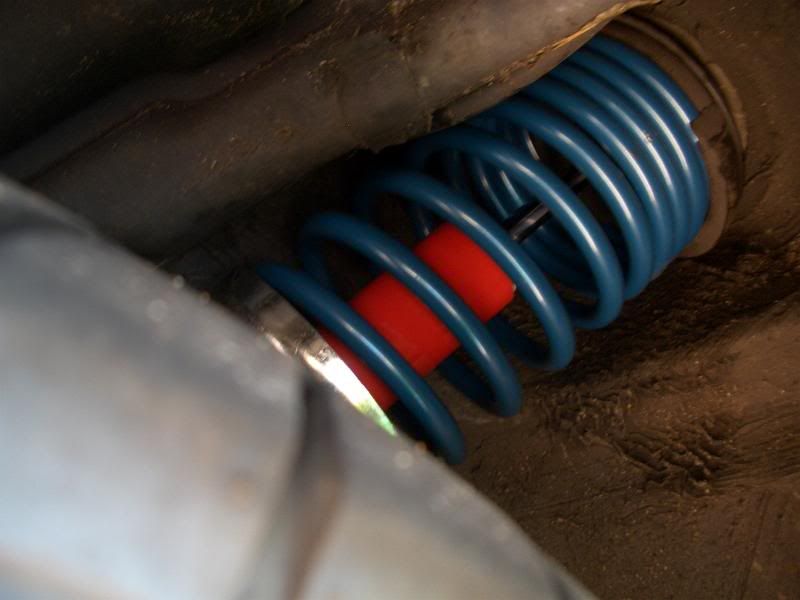 at tooley, i met with tom, owner of Mk2 and the set of BBS RS in the previous previous blog.
$800 later, i was the new owner of a set of 15" BBS RS wheels
. they were f*ckin' dirty as when i got them, but with some off-the-shelf wheel cleaner and wheel wax, i got them looking shiny (well, as shiny as it can get) again. finger was hurting after that, but it's for the love of the BBS :)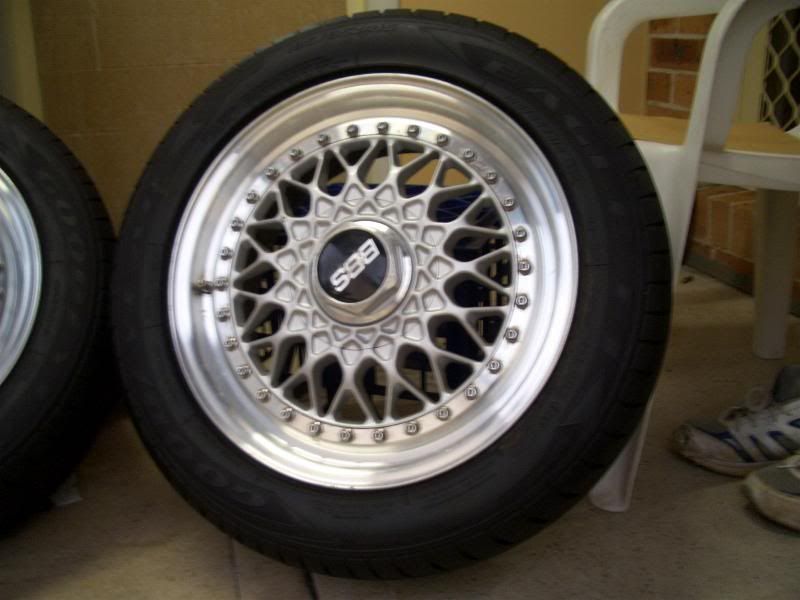 shoved them on before i lowered the car off the stands, and i was/am ecstatic about the way it looks. with fairly new 195/55 tyres (roughly ~500km) with plenty of tread, i was happy. these weren't just ordinary tyres - they were
goodyear eagle F1
's. they grip like geckos in the dry, and i was amazed with how well good tyres can perform. even in the wet, they gripped better than what my previous bridgestone could do in the dry. they are absolutely fun to have a fang in. i know now that
one shouldn't skimp on tyres
. tyres are ultimately the only things that keep you connected to the ground in a car. i have so much more control in my car now compared to what i had before. i am definitely happy about these mods i carried out.
here's some quick after pics: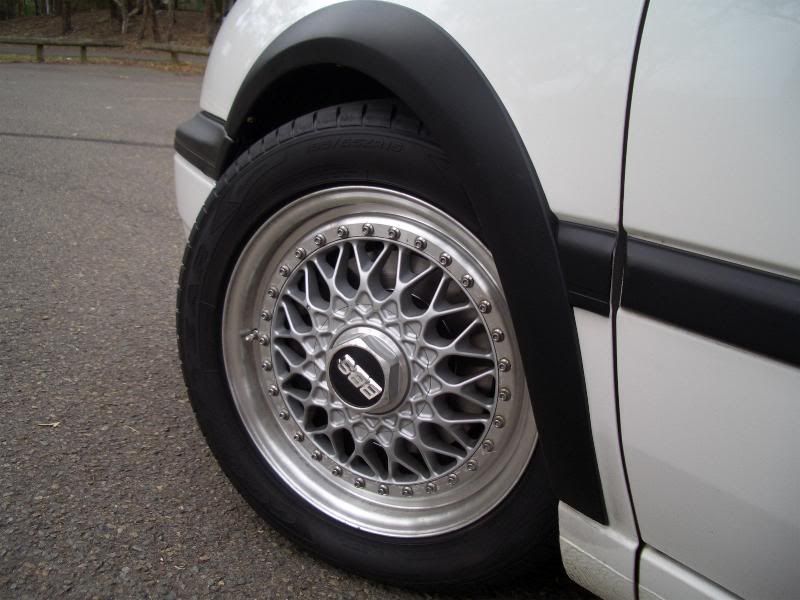 but i'm not
completely
happy yet! ;)