so you must be wondering, what's "joey modding"?
honestly, i dont really know, but it's the name given to a way of modifying one's headlights. it basically involves
spray-painting parts of your headlight
(not the lens) to a certain colour to achieve an aftermarket look to it. obviously the parts painted on the headlight does
not
involve the reflective parts (or else they won't function as headlights anymore) but on the surrounds of the headlights that do not affect the light output. a common colour is black; joey modding headlights to black gives it that
"projector" look
: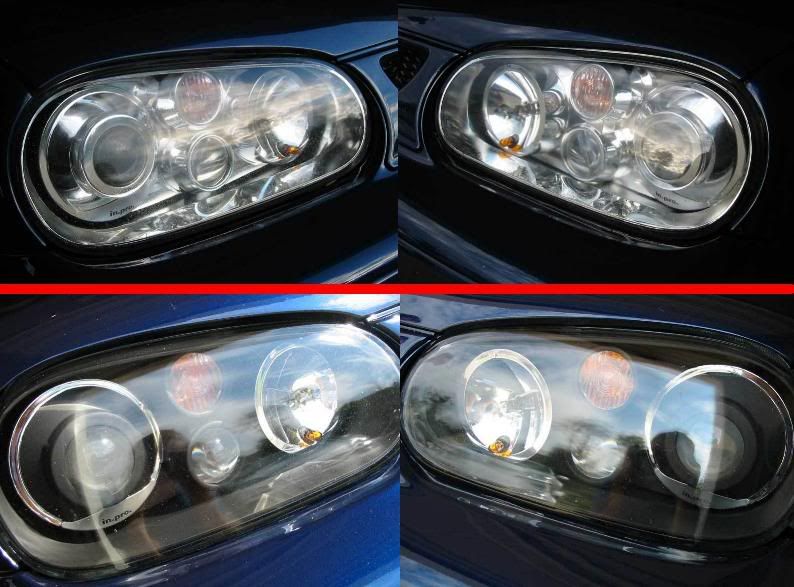 it's usually a
subtle
change, which i am looking for. it's a very cheap alternative too, as opposed to getting new headlights. for me, the total cost was about $30, and i now have some very nice looking headlights.
there are many ways of doing this, but here was
my method
after looking at a few how-to's.
(just a disclaimer, that i'm not responsible for what you do to your headlights! i am not responsible for any damage incurred while following the below instructions!)
materials needed:
socket tools

(8mm for mk3 headlights)
oven or heat gun

flat head screwdriver

(small size may be easier to use)
knife blade
sand paper


paint

(try and find one that's resistant to heat; if using black, i used matte)

clear coat

(not necessary)
nail polish remover
cotton buds

touch up paint

(not necessary)

glad wrap
newspaper

auto sealant

(or any silicone sealant, preferably in clear, white or black)

take headlights off

. with the mk3, the grille had to be taken off to gain access to the nuts and bolts that held the headlights onto the car. i recommend doing one at a time, just so u can see the comparison and also it's a long process and must be done carefully.
now, you have to

separate the lens from the headlights

. this step is dependent on the materials used in your headlights. if the lens are glass and have been securely sealed on to the headlights, as was the case with my mk3, u'll need to use some sort of heating device to make the sealant more malleable. i used an

oven

, and this worked perfect:
preheat oven to

150 degrees celsius

. with lens face up on a tray, put the headlights into the oven. leave for a good

90 seconds

.
i don't know if a hair dryer works, but that might be worth a try.
for those that have plastic lens, i have no idea what to do for that. hopefully the manufacturer just used clips to secure the lens to the headlights.

for those that used an oven,

slice

around the edges using a knife blade

where the headlight and lens are secured:

keep cutting all the way around, taking out any sealant gunk that you happen to chop out.

using a flat-head, lever the lens

from the headlights. this should be fairly easy to separate once you've cut some of the exposed sealant out. if they don't seem to budge, place it in the oven again under 150 degrees celsius for 60 seconds. cut around the edges again if there are any sealant you can see, and try to lever it out.

repeat this step

as many times as required; remember that this should be done

carefully and slowly

.
once separated,

clean the headlights and the lens from the sealant gunk

. i had a shitload on mine and they were a bitch to clean, but it must be done:


again, do this

carefully and slowly

, and ensure that every bit is taken out. using the knife blade was easier on the lens, while the headlights i just used the flat head to try and take all the shit out. it's recommended to

cover the reflective surfaces

as to ensure that no gunk gets accidently threw into it.
now the fun part. masking!


mask around the headlights first

with masking tape and newspaper.
now, masking the reflective parts... u can use masking tape with newspaper, but it's very very easy to peel off the reflective mirror in big flakes if the tape is too adhesive and/or you're not careful in slowly peeling it off after painting:


i ended up using

glad wrap

on my second try with the other headlight and there was much less peeling. if you decide to use tape, make sure u "wear it out" first by taping the underside of your shirt a few times first.
Edit - use masking tape. Wear it out A LOT, so it basically has barely any stickiness left to it, but just enough to stick and cover. Both are a f*ckin' bitch to use, but masking tape may be the better alternative when it comes to the result.

Lightly sand the top surface, making sure nothing falls to the masked part. We're just trying to keep it as clean as possible. If it does fall in, just try and blow it out. Paint (until you get a complete cover) then clear coat (ignore the priming process - it lifts the reflective surface and sticks it to the masking tape, resulting in a slur of expletives when you remove the masking):


leave ample time for drying in between. while you wait for it to dry, clean your lens

thoroughly

. most likely they're pretty dull and not as clear as what new glass lens should look like. refreshen them up and your power output would even improve:



once the clear coat has dried (give it an hour to be safe), slowly, and i mean

REALLY slowly

, peel off the masking, whether it's tape or glad wrap. this has to be done extremely carefully to make sure

none of the reflective parts have been peeled off

.
now for the touch up. from what i did, my masking was pretty dodgy, so there was some slight overspray on some parts of the headlight, and also some parts that weren't sprayed on. to take care of overspray, use nail polish remover and cotton buds:


the key is to use

ample amounts

of nail polish remover, and

constantly change the buds

after 2 or 3 swipes. for the missed spots, i used some holts touch up paint that i got from an auto store (peps, supercheap, repco etc) and just roughly went over some parts:


here are some before photos:


and the after:



give it 10-15 minutes to dry, then it's time for the sealing. i used this which i got from bunnings:


imo, it worked great, and gave the headlights a better look since it was black. just

follow the instructions

on the product and everything should be fine; use

copious amounts

so condensation build-up shouldn't be a problem with the headlights. try and do this within the space of 5 minutes, then put the lens cover back over the headlights,

aligning it properly

and forcefully hold it down so there should be no gaps:


after the lens cover was on in the right position, i put

another layer of sealant

to double make sure there are no air holes. it got messy and was a bitch to clean, but should be fine.
so that's done. give 2-3 hours for the sealant to settle, then clean any excess off. use something heavy (i got my bag and filled it up with weights) and
hold
the lens down on to the headlights. best to keep it there for 24 hours. remember to
always keep the lens cover facing up
as seen in step 7. you might scratch the lens cover if otherwise, and i did this to one of my lens cover.
ok, here are the before/after (mostly after) shots: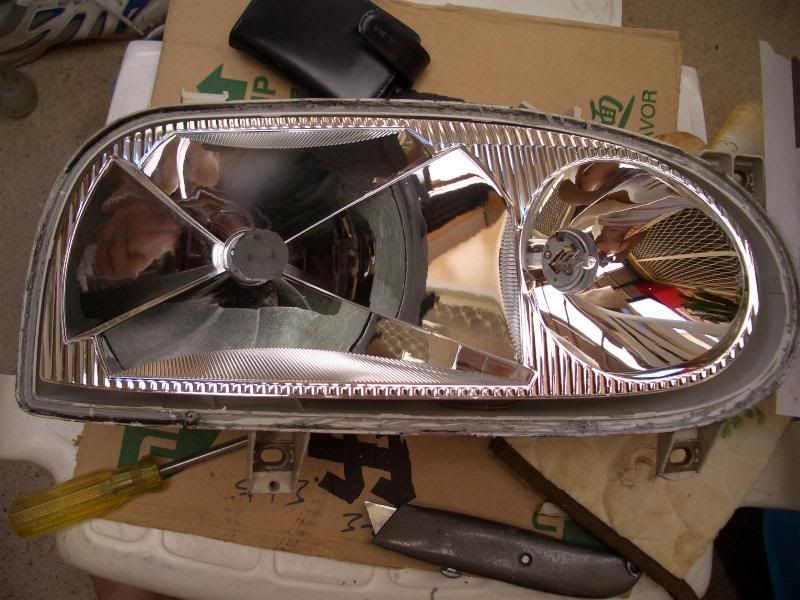 pics
here
Edit - Also, I recommend blow-drying/using acetone wipe down any moisture on the lens. I get a bit of cloudiness in my headlights (not very noticeable, but it's not crystal clear) and I deduce this from a lack of sitting time before/high humidity during the sealing process. Acetone absorbs moisture (thanks Uni science classes).