Just procrastinating on my Uni work so chucking up a few pics on what's been happening.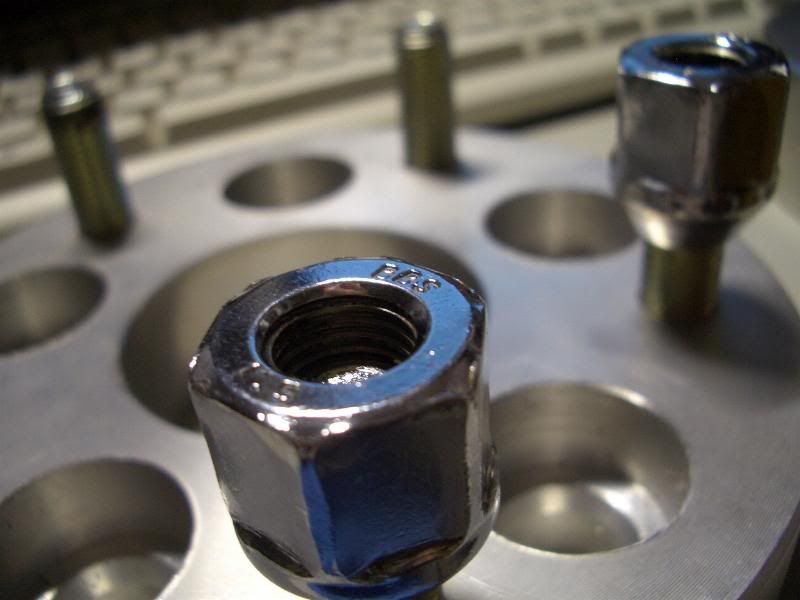 Also received
new clear side indicators
and bought tinting paint.
Smoked
the clear sides to get a more consistent smoked finish as opposed to the JOM items I had before. Light quality is shit as and it doesn't look good at all when it blinks :( Should have stuck with the JOM items and just de-ambered the cap. I'll probably just tint the stock ambers too to see how that looks. If it gets rid of the amber look when it's not blinking, then I'm happy.
Update #2
Went
tyre shopping
today. I first told myself what size I wanted (originally it was
195/45R16
and 205/45R16, but have since settled with the only the former), then went about researching what tyres came in that size. It's a
very uncommon size
(how many 16x6/16x6.5 wheels do you usually see?!) but I was still spoilt for choice. I then set about looking for dealers stocking these wheels, and stuck with a shop that was reasonably close to where I live. Here's the tyres I came up with:
Toyo Proxes T1R (~$165/each)
- 195/45R16 80V
Yokohama S-Drive AS01 (~$225/each)
- 195/45R16 84W
Goodyear Eagle F1 GS-D3 (~$300/each)
- 195/45R16 94V
Goodyear Eagle LS2000 (discontinued?)
- 195/45ZR16 80ZR
Dunlop SP Sport 9000 (~$350/each)
- 195/45R16 80V
Falken ZE329 (~$179/each)
- 195/45R16 84W XL
- 195/45R16 80W
Continental SportContact
- 195/45R16 84V XL
Event WL905 (from Continental website)
- 195/45R16 84W XL
Hankook Ventus K102
- 195/45R16 84V XL
Michelin Pilot Primacy
- 195/45R16 80V
Nankang NS-2 (~$139/each)
- 195/45R16 84V XL
Pirelli PZero Nero
- 195/45R16 84V
- 195/45ZR16 84W
They're not very wallet-friendly those prices :( Though I was pleasantly surprised that Beaurepaires was able to do
Nankangs for only $139/each
and Blair's Tyres for their
Toyo T1R at $165 a pop
. However, out of all those shops, only
Beaurepaires
was willing to stretch them on an 8" wheel, and he didn't care about fitting them onto a car with adapters (others were a bit iffy on the legal issues involved). Service was much better overall at Beaurepaires too. What I'm thinking of doing is going to Blair's to purchase the set of Toyo T1Rs, then going to Beaurepaires for the fitting and balancing, and the alignment. It will cost extra, but it'll be the difference between a well-known/respected tyre and an entry-level, no-name tyre. However, that said, I'm willing to "risk" (if you can even call that) trying the Nankangs purely because of my financial situation. I'm pretty sure I'll be able to afford better tyres (eye-balling SP9000) once the Nankangs are worn out since I should have a full-time job by then (hopefully). It'll be the only chance I try out some high performance but cheap tyres.
Anyway, pics of the two contending tyres:
Toyo T1R
Nankang NS2
Also gave Matt a call today. My VR6 brakes actually need
VR6 CV joints
in order for them to be able to bolt on. Matt quotes ~$100 per side, so shouldn't be too bad. Planning on doing it myself too. Matt quotes ~$350 for the labour if I give it to him. I'm gonna give it a go though. Also, I'll be picking up new brake fluid from him for $25/L.
I still gotta
dremel the guard liners
dremelled so they can be rolled too... Hopefully I'll have that done by end of Sunday so I can get the fenders rolled on Monday, then start work on the brakes. I'm aiming for it to be done by Friday so I can take it out to the
Flat Four Shootout
on the next Sunday (4th November)!
Update #3:
OK I ended up ordering the
Nankangs
. They only have THREE 195/45R16 tyres in the country at the moment so I settled for a
pair of 195/45R16
for the front 7", and a
pair of 205/40R16
for the rear 8". The stretch would be minimal on the wheels but it should be OK as my offsets aren't crazy low. $139/each so should cost me
~$550
all up for the tyres. Will be paying and getting them mounted tomorrow. w00t.
Update #4
:
Matt will have the CV joints ready on Monday, fender guards will be trimmed on Sunday and fenders will be rolled on Monday, bumpers should be ready by next week (I've taken far too long), and
hopefully
VR6 brakes will be too.
Nankangs came on Thursday
so I had them fitted straight away. Disappointed with the 195 on 7", but content with the 205 on 8".
195 on 7":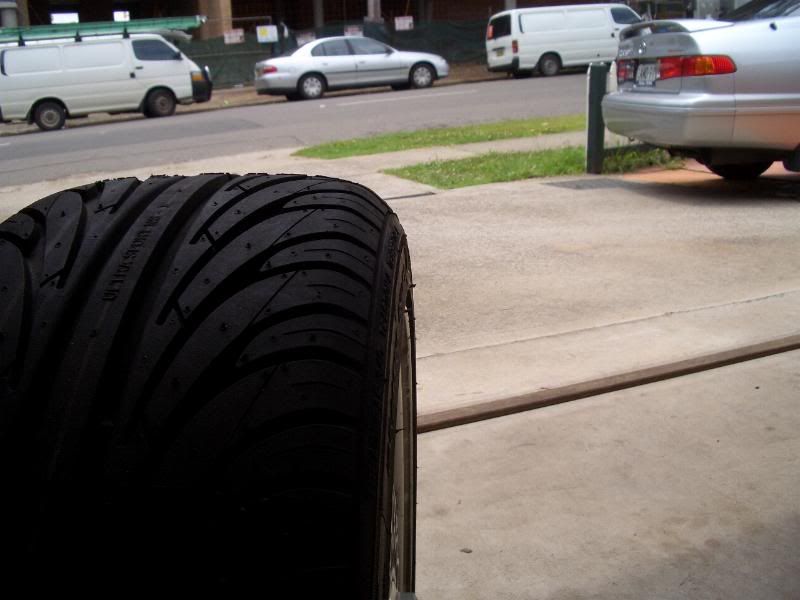 205 on 8":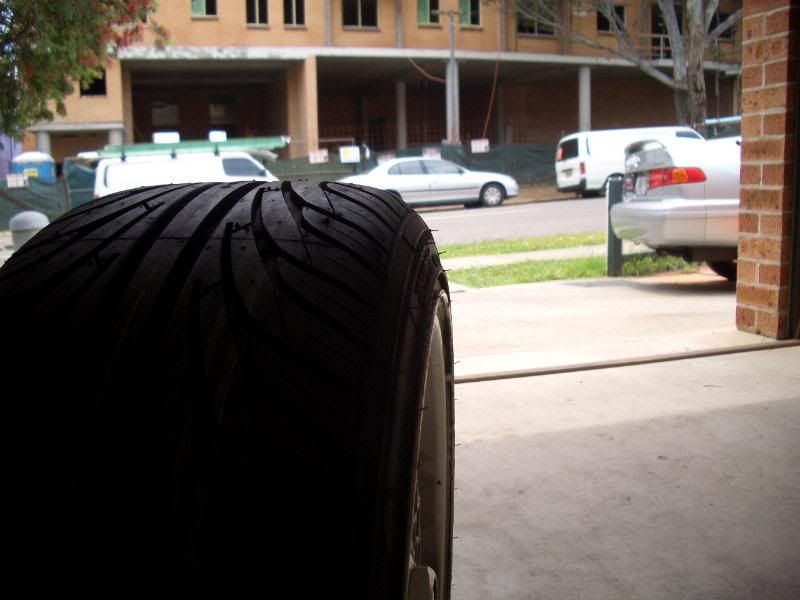 Comparison
between the two:
Difference in rolling diameter
(closer one being 205/40):
As you can see, hardly any stretch. I'm having doubts about the fronts fitting :( I guess I'll only know when I fit them on.