Mike of
SubtileBlog
, always being the bearer of
good
news, has now
sent
my
adapters
over the Pacific Ocean. $90USD was the shipping price.
So it's got me
excited
. Last weekend I had the coilovers done. This weekend I'll be working on the shaved bumpers. Next weekend might see me putting in the brakes and then the adapters along with the 16" BBS RS I've wanted to fit on for so long. So it's got me
REALLY excited
. I just have to show-off :P
RS225:
8" of BBS goodness. High offsets means adapter friendly :)
That's just a pair of them. The other pair should have a different RS model number as they are 7" from the factory. Same offset.
Oh, and remember how I got a BBS RS wheel for $20? Here it is. RS032; looks much smaller than the 16's. They're actually the same width as my previous 15" set but these are +17 in offset: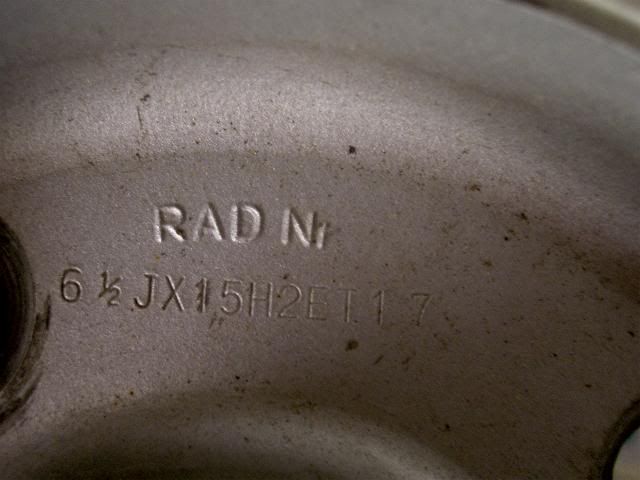 <3 dish.
So my plan for them is to whack them straight onto the car after the brakes and adapters are in (after some fender rolling and 195/45's of course) until I have the Equips refinished (pictures soon). Once the Equips are done, I'll completely take apart the RSs and do a very thorough
rebuild
job. At the moment I'm thinking of widening the front 7" pair to 8" to achieve a staggered offset rather than a staggered width. Since the offset will be lower on the new 8", they will go to the rear. Of course I'll be trial fitting the current rears to the fronts first to see how well they sit. For the appearance of the wheels, I'm thinking of an
all
(gloss) black powdercoat with gold bolts and gold BBS lettering caps (remember the ones I bought from
Racing Team Hoffman
?). Pictures of
Ian Chan's
blacked out lips on his RH ZW1's and more pictures from
Wheel-Whores
has sold me on the black look. The gold highlights would be a very special touch too IMO.
RH ZW1 w/ matte black lips and orange centres:
BBS wheels completely blacked out w/ polished highlights.
So anyway, that's my plan for the moment.